Thoughtful Design
An important aspect of successful and supportive residential memory care is good space. Scottsdale Memory Care is carefully and lovingly designed to feel homey and inviting, reduce anxiety from disorientation, and promote the highest level of independence possible. The decoration, lighting, and outdoor landscaping are thoughtfully curated to be welcoming and consistent to reduce decision fatigue and feel more comfortable, just like at home.
Four Neighborhoods
Scottsdale Memory Care features four neighborhoods. While the neighborhoods are of identical design, they are designed to accommodate different levels of cognitive ability. Residents are often eased by consistent surroundings, among neighbors that are experiencing relatively the same degree of cognitive function, which helps in building cohesive communities. You can come together with the Avenir caregiving team at ongoing round table meetings to share information, assess needs, and choose the neighborhood that promises the best environment your loved one.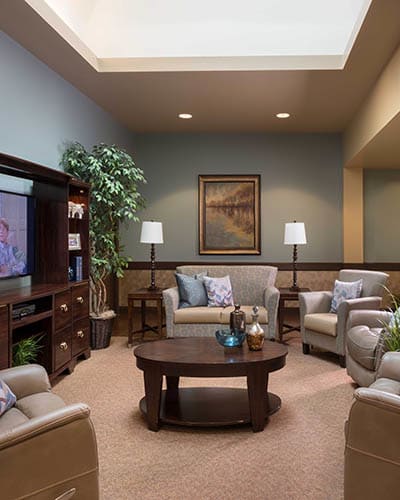 An Intentional Community
We focus on nurturing a high standard of living for your loved one, in a beautiful and relaxed environment specially designed for people with Alzheimer's and other forms of dementia. Scottsdale Memory Care features:
Private & Companion Suites
Individualized Memory Boxes Outside Rooms
Pet-Friendly Environment
Continuum Of Care
Enclosed Courtyard With Points Of Interest
Our enclosed gardens and walking paths offer a place to stroll freely in nature, alone or in company. This helps to create a sense of independence which fosters confidence, self-esteem, and a sense of purpose and excitement for each new day.
Come see what sets Scottsdale Memory Care apart for long-term residential or short-term respite care. Schedule your private tour today.